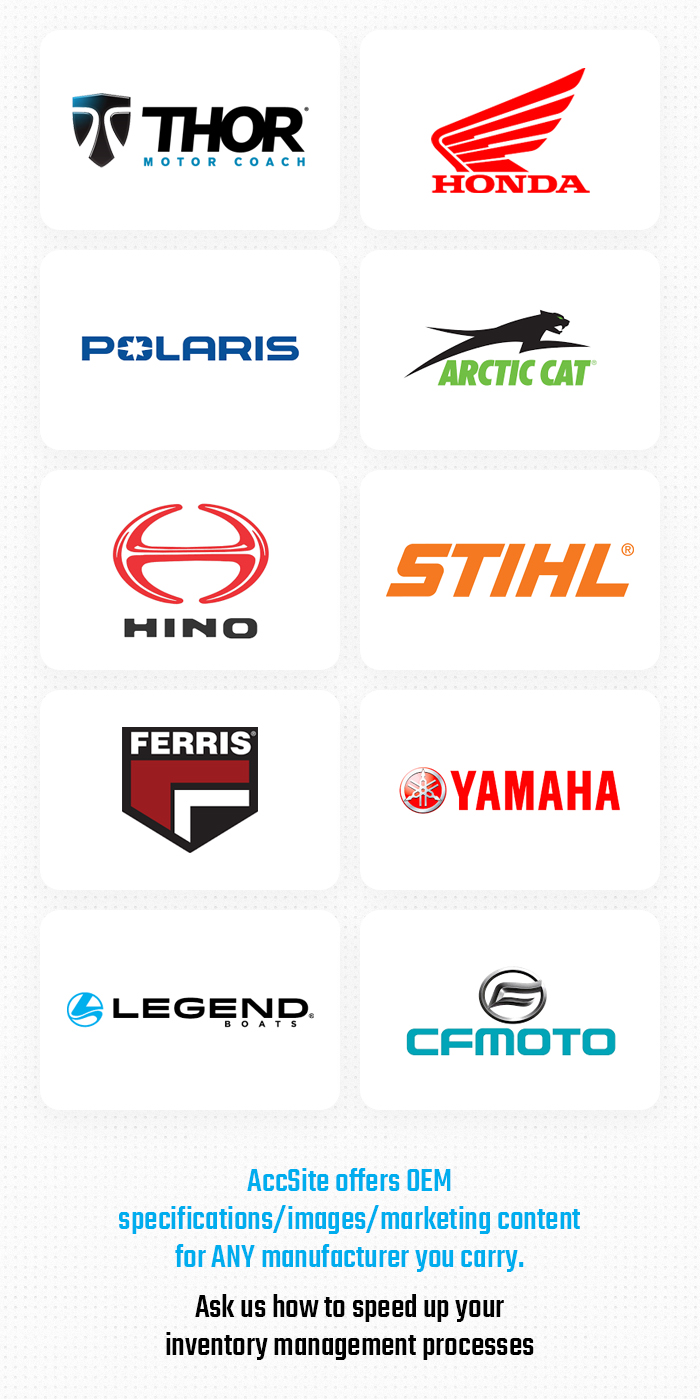 OEM Co-op Programs
In most cases, just because your OEM has a preferred vendor list DOES NOT mean that you must select one of the website providers from that list. You still have the control to select a website provider that works for your specific needs – ESPECIALLY, if you are a multi-line dealer.
Preferred Vendor Lists
These lists originate with an OEM's Marketing Department, based on the fact that their brand is so valuable to them and to their dealer network; therefore, it needs to be taken care of properly in order for their products to gain their maximum online reach and be displayed in a manner that meets their sales standards. Hence it is easier for them to simply say, 'these guys go it right so deal with them'. But, if you look at the details of your OEM agreement or OEM co-op marketing plan, they typically provide you with the framework of what sort of web/website presence you need to have.
That is where AccSite can still be of assistance no matter what OEM(s) you deal with. Look around at the offerings. They don't offer anything special in regards to content, layout or design that AccSite can't or isn't willing to offer. Actually, we love & appreciate the type of dealer that is willing to buck the easy path in order to support a Canadian website provider that is more than willing to go the extra mile in order to provide you with a dealer specific website solution that is fast, flexible and friendly to use.
The Math
Typical OEM website suggestions run around $399/mth USD. With a 1.3 conversion rate, you're looking at around $520 CDN/mth ($6240/year). If you are a single line dealer, you will get 50% co-op reimbursement, IF you don't run out of co-op funds before year end. Best case scenario, you're on the hook for a minimum of $3120/year. Worst case, WAY more if you run out of co-op funds.
If you happen to be a multi-line dealer, best case scenario you will typically be able to receive a 25% co-op reimbursement – in other words, you'll be on the hook for $4680/year.
As a Canadian-made website provider, AccSite is priced to save you between 55-80% per year – which allows you to spend your co-op dollars in other places that will make your dealership better and strengthen your local or expanding markets. In other words, even with a 50% reimbursement, you'd be saving money with AccSite!